Sp5der Acai Hoodie Purple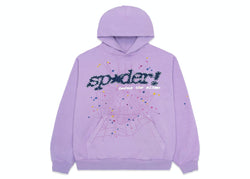 Sp5der Acai Hoodie Purple
Dressed in light purple, this Sp5der Acai Hoodie is made of high-quality cotton. The front features several branding details, including black "Sp5der!" lettering with tiny gems on the outline and smaller white "here's the slime" type under it, as well as a spider web design in contrasting purple that dominates the front and tiny, multicolored stars. The tiny stars also appear on the back. Other details include a kangaroo pouch pocket, a hood without a drawstring pull, and ribbed hem and cuffs.
We will ship out the items within 2 - 3 business day. Due to COVID-19, it can take up to 5-7 business days for us to process your order. We are NOT responsible for stolen/missing packages caused by carrier of choice. Please contact the carrier to file claims against the services they provide.
NO RETURNS OR EXCHANGESAll sales with Solestage are final. Solestage is a consignment marketplace, meaning all items we carry and offer on this site are provided by independent owners. Once an item sells, either online or in one of our stores, the owner receives payment for their merchandise. Because of this, we are unable to process returns or exchanges.If you have any questions or concerns with regard to sizing or condition of a specific product on our site, please email us before committing to purchase.Refunds are ONLY processed based on fulfillment errors, such as incorrectly shipped or missing items.Feel free to contact us with any questions.